Mia Honore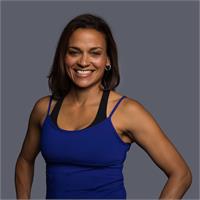 Mia Honore instructs the following:
A 45-minute workout packed with a variety of exercises that will challenge your strength, endurance, balance and flexibility. If you've been getting stagnant in your training and are looking for something to move you past that plateau, this class is for you. The class features many different training modalities and a constantly changing mix of activities. The ever-changing mix will keep your muscles and your mind sharp, and help you move to a higher level of fitness. Variations on many exercises will be presented to accommodate participants at different ages and fitness levels.




Instructors combine work on the TRX Suspension Trainer with other strength training accessories to create a fun workout designed to tone your entire body. Like our TRX Circuit classes, instructors demonstrate variations on specific exercises to allow participants to train at the level that works for them.




Experience fun, group energy while training with CRUfit Power Zones. This combination helps you get results such as enhanced cardiovascular fitness and a stronger, leaner body. The CRUfit Cycling Theater is equipped with air conditioning, fans, focused lighting, a great sound system and easy-to-use, smooth-riding bikes. CRUfit Cycle90 classes are 90 minutes long as opposed to the 60-minute standard used in our other classes.




Strength and endurance work on the TRX Suspension Trainer. An effective total body workout in a free flowing format. Instructors demonstrate variations on movement patterns to allow all participants to train at the level that works for them. Most classes will include periodic segments of cardiovascular exercise designed to keep participant heart rates up throughout the session.




A fun, rhythmic class with a great mix of upbeat music which is designed to work for both inexperienced and experienced cyclists. Participants at all fitness levels are invited to come in for an effective and time-efficient training session.