Adriana Oyarzun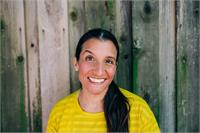 Adriana was born and raised in Caracas, Venezuela. She moved to the Bay Area to receive her BFA in Photography in 2005 where she discovered Zumba and fell madly in love with it. Adriana has been dancing since she can remember and there are very few things that make her happier than dancing. Zumba is her Zen!
Adriana Oyarzun instructs the following:
Everybody and every body! Each Zumba® class is designed to bring people together to sweat it on.

We take the "work" out of workout, by mixing low-intensity and high-intensity moves for an interval-style, calorie-burning dance fitness party. Once the Latin and World rhythms take over, you'll see why Zumba® Fitness classes are often called exercise in disguise.

A total workout, combining all elements of fitness – cardio, muscle conditioning, balance and flexibility. You will experience boosted energy and a serious dose of awesome each time you leave class.