Laura Blair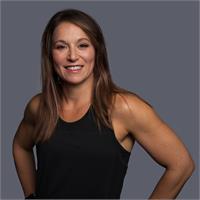 Laura enjoys fitness and exercise as a way to find balance, fun and community in a busy life with lots of demands. Laura studied Kenpo Karate for eight years, earning her black belt and competed in sparring and point fighting tournaments, winning national and international titles. Laura enjoys training for events and has participated in half marathons, cross fit competitions, trail run races, mud runs, and rowing competitions. She believes in lifting heavy things, bringing your best self to your workouts, and cheering on your teammates. Laura is a coach for the Healthy Kids Running Series in Oakland and TRX qualified. Outside of fitness, Laura enjoys spending time with her family, being outside and reading silly YA novels on her kindle while foam-rolling.
Laura Blair instructs the following:
CRUfit Row offers an excellent full-body cardio workout in a rhythmic group setting. Our rowing trainers have been teaching indoor rowing for years and are skilled at helping new participants develop proper technique. Classes will vary from flowing, low-cadence long-and-steady training sessions to higher intensity, higher cadence sessions featuring a series of short intervals. Periodic indoor rowing events will be offered to allow experienced rowers to test their fitness levels.




This class offers rigorous full-body cardio on the Concept2 rower interspersed with full-body strength training and core work. The sessions will combine the benefits of our indoor rowing classes (solid cardio, rhythm and technique) with movements that will elevate your fitness and energy levels.