Victoria Sovocool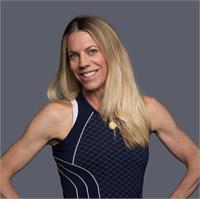 "Love the hills, embrace the hills, make the hills your friend" was my motto during years of running and cycling through the beautiful bay area. I believe "No" only means you have to work a little harder to reach your goal. Tori's passion for sports started as a young gymnast and continued through many years of competitive marathon running. Her personal highlights include running in Boston, being a guide runner to a disabled athlete in New York and finally achieving a personal best of 3:21 on a flat Sacramento course. As the aches and pains grew from running, Tori turned to triathlon racing for some cross training. Her first passion might have been running, but her life's purpose is being a mother to two children, wife, dog walker, and chef.
Victoria Sovocool instructs the following:
A fast-paced, high energy training on the bike with an emphasis on music and fun. Most trainings will feature short work intervals at high intensity coupled with short to moderate rest intervals. Some classes will be run in a Tabata training format. Like all CRUfit cycling classes, participants will get performance feedback to motivate them through each training session.




In CRUfit cycling classes experience fun, group energy while training with CRUfit Power Zones. This combination helps you get results such as enhanced cardiovascular fitness and a stronger, leaner body. The CRUfit Cycling Theater is equipped with air conditioning, fans, focused lighting, a great sound system and easy-to-use, smooth-riding bikes. This class is 90 minutes long to allow additional training time for more ambitious riders.