Dante Rodrigues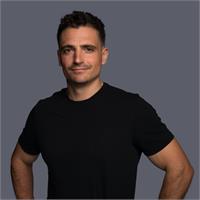 Dante Rodrigues instructs the following:
Improve strength, flexibility and balance with progressive exercises that safely strengthen core muscles and major muscle groups while heightening body awareness. Guided exercises build upon each other to deliver a better functioning body. Balance training partnered with core development improves functional movement and minimizes risk of injuries and falls. A unique training experience using body weight exercises, light weights and other tools. Great for older adults but suitable for all ages and fitness levels. Especially suitable for middle-aged and older adults. Don't accept dwindling strength, flexibility and balance as a natural part of aging.




This class adds basic kettlebell movements to our standard TRX Circuit. Kettlebells are a wonderful tool for developing strength and coordination. TRX is an efficient full-body strength training tool that can help you sculpt your shoulders, arms, back, abs, legs and glutes. Instructors demonstrate variations on specific exercises allowing you to train at the level that works for you.




CRUfit Boxing Circuit is boxing and MMA style conditioning infused with traditional circuit training. This class builds strength, cardiovascular fitness, speed, balance and agility for participants. Participants learn how to punch and kick with proper form and how to perform a number of additional movements which are commonly used in training by boxers and MMA practitioners. A portion of the class is done solo and a portion is done with partners. This is a fairly fast-moving class, but variations are offered for participants at different fitness levels. While not required for the first class, we strongly recommend that ongoing participants purchase their own gloves or hand wraps for use when punching.




Instructors combine work on the TRX Suspension Trainer with other strength training accessories to create a fun workout designed to tone your entire body. Like our TRX Circuit classes, instructors demonstrate variations on specific exercises to allow participants to train at the level that works for them.




A good fit for youth ages 10-16. Build fitness while doing a fun variety of activities including: boxing, martial arts, obstacle courses, agility drills, strength training, games, cycling and rowing.




Build body and mind with sets of progressive exercises, stretching, rolling and guided meditation. Emphasis is developing and strengthening the muscles of the core, along with functional movement patterns and postures for improved balance and perceptual awareness. Learn to balance stresses of life through breathing techniques and guided meditation. Feel physically & mentally refreshed and revitalized. Great for older adults but suitable for all ages and fitness levels.